The best places to eat Thanksgiving dinner in Miami
If you ask us, Thanksgiving is best spent watching football and hanging with family, not slaving over a hot stove all day. Also, who wants to cook after a night of marathon drinking out at all the Wynwood bars? But our main reason for forgoing a homemade feast on this holiday has to do with the best restaurants in Miami. The city's top establishments have sweetened the deal with prix-fixe meals, themed courses and festive cocktails that require zero clean-up and little to no effort (read: you'll have no trouble scoring a seat this holiday season). So, as much as we love grandma's mashed potatoes or look forward to dad's smoked turkey each year, how about we give the family chef something else to be thankful for: Thanksgiving dinner reservations.
Where to eat on Thanksgiving in Miami 2022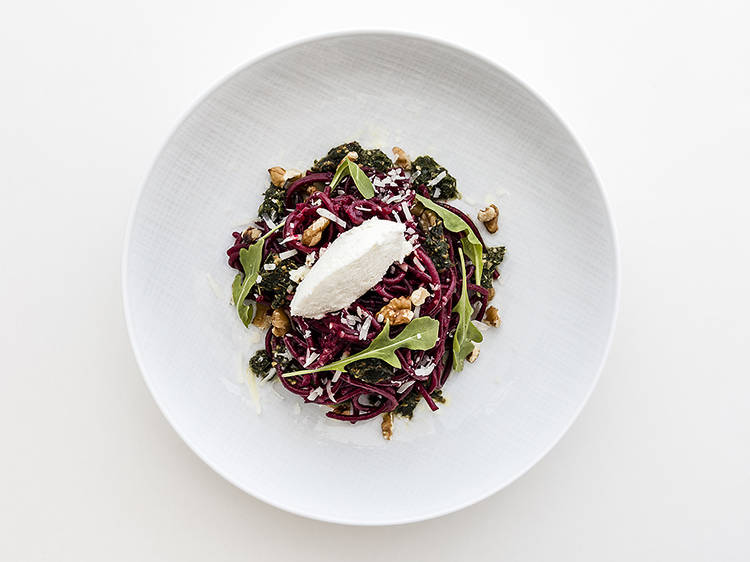 Photograph: Kris Tamburello
1. The Strand Bar & Grill
The Strand serves the Thanksgiving meal you read about in cookbooks but can never quite execute yourself. Leave it to the pros who put out black fig ravioli and lemon pepper herb-crusted turkey as part of a four-course plated dinner. Seatings are available at 5:30pm and 7:30pm. Dine in. $95, children $45.
2. Le Jardinier
If the Jetsons had a favorite restaurant in Miami, it'd be Le Jardinier. There's no techy vending machine dispensing your entrée and the servers aren't gentle and nurturing robots, but the aesthetic is certainly something you'd expect to see in the future. This Thanksgiving, the Bastion Collection and its Head Bartender Ruben Rolon (recipient of the 2022 Florida Michelin Guide's Exceptional Cocktails Award) have devised a selection of bubbles to pair with Le Jardinier's al la carte items like foie gras and butternut squash parfait, cauliflower and mascarpone agnolotti and roasted chicken with charred scallion butter. 
3. Bagatelle
Big parties looking to celebrate special occasions over giant, shareable drinks fare well here, as do smaller groups craving authentic French cuisine. Thanksgiving at Bagatelle tones down the party vibes, but only a little. Ever on the French Riviera in its mind, Bagatelle presents a holiday menu that dresses up the classics using French gastronomy. Think brown butter mashed potatoes with extra black truffle.
The West Avenue's go-to spot for authentic Northern Italian fare, Morini will offer a three-course prix fixe dinner menu (1-–9pm; from $75 or $55 for childrne) and an extensive to-go menu this Thanksgiving. For dine-in, family-style apps include burrata with pumpkin seed crumble and polpettine made with prosciutto and mortadella with Pomodoro and whipped ricotta. Your choice of mains includes tacchino herb roasted turkey breast with potato purée, branzino with crispy Brussels sprouts or gnocchi ricotta dumplings with butternut squash. For dessert, choose from a pumpkin pie with vanilla crema and toasted pumpkin seeds or the caramelized apple pie with vanilla crema and caramel sauce. The to-go package for two is ($135) is available for pre-order through 9pm on November 18. 1750 Alton Road, Miami Beach
5. Tropezón
The team behind downtown Miami's beloved neighborhood bar Lost Boy Dry Goods have branched out to the restaurant business with Tropezón, an Andalusian gin and tapas restaurant on Española Way. The funky spot invites you and your pals to enjoy a family-style Friendsgiving feast that includes Tropezon's famous half-roasted cochinillo with pork jus, swiss chard gratin and papas panaderas. Nov. 20–27, $120
6. The Key Club
The unspoken inspiration behind David Grutman's American restaurant is Hillstone/Houston's, down to the crispy fried chicken sandwich that tastes suspiciously similar to the former's popular lunch staple, Ding's. And that's ok—imitation is still the sincerest form of flattery in our book. For Thanksgiving, Key Club is offering a three-course dinner (5–11pm) starting with butternut squash soup followed by tortellini with black truffle butter and a whole roasted turkey accompanied by sides like green beans, mac and cheese and sourdough stuffing. Finish it all off with pumpkin and chocolate pecan pies. Dine in $72; Take-out $250.
7. Yardbird Southern Table & Bar
One need only venture a few steps off Lincoln Road to try Yardbird's comfort food staples, all made from scratch and most sourced locally. Take-out packages this Thanksgiving include classics like herb-roasted turkey, mashed potatoes, sage and celery stuffing, green bean casserole, bourbon brown butter glazed yams, fresh cranberry relish and biscuits and giblet gravy. If you're dining in, enjoy the robust herb-roasted Yardbird turkey dinner ($42) plus a la carte items like Charleston she-crab soup and melted leek potato gratin.
8. Amara at Paraiso
James Beard award-winning chef Michael Schwartz's Edgewater restaurant celebrates Miami's dining scene and culture through a hyperlocal menu, comprising coastal ingredients and Latin-influenced dishes. For the Thanksgiving holiday (2–7:45pm), expect a range of a la carte entrées, sides and cocktails. Butternut squash salad, Joyce Farms turkey, Yukon Gold mashed potatoes and pumpkin spice flan are among the ultra-comforting menu items with a decidedly Miami flair.
9. Le Zoo
Inject your holiday with a little French flair at Le Zoo. The Bal Harbour Shop spot is keeping it simple and classic with a family dinner bundle featuring pumpkin soup, salad, family-style roast turkey(both white and dark meat), classic stuffing, cranberry sauce, whipped potatoes with gravy and vegetable souffle. Pre-order by phone or in person to pick up at the restaurant. 
10. L'Atelier de Joël Robuchon
Enjoy an otherworldly Thanksgiving experience at L'Atelier de Joël Robuchon, the only two Michelin star restaurant in Florida. Take your seat at L'Atelier's dining counter to watch the chefs prepare elevated holiday dishes like Le Ris De Veau (roasted veal sweetbreads), Le Souffle Au Fromage (Comté cheese soufflé with honeynut squash confit), La Canette (crispy skin duck breast), and Le Filet Mignon (spiced crepes with braised chestnut).
Photograph: Unsplash/Сергей Орловский
11. Il Mulino New York
Get the best of both cuisines at this Italian-inspired Thanksgiving dinner. For the purists, there's organic roasted turkey, fresh cranberry sauce, walnut and sausage stuffing, green beans and mashed potatoes on the prix-fixe menu. Or shake things up with dishes from the Abruzzo region of Italy available á la carte. Creamy pumpkin cheesecake is sure to please both camps. Thu 5:30–11pm; $65.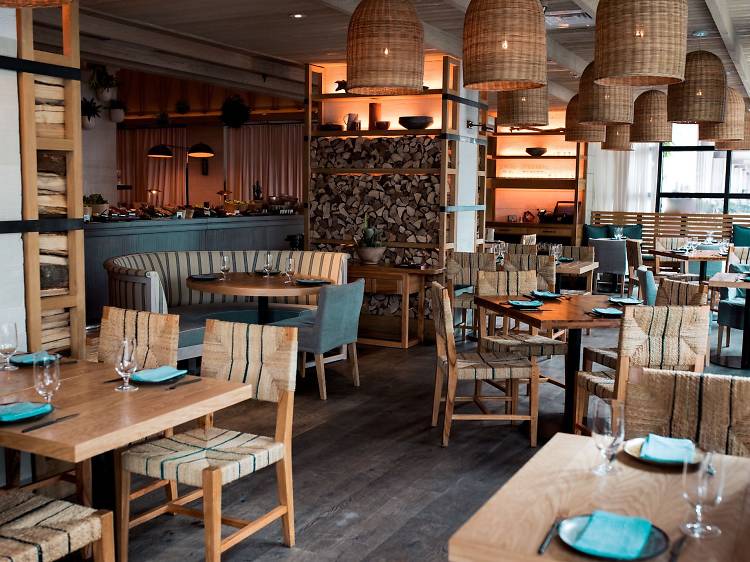 Photograph: Courtesy Habitat
12. Habitat
Chef Ross Jansen fresh eatery at 1 Hotel South Beach will be offering a special Thanksgiving Day prix-fixe menu (2–9pm) complete with a seasonal vegan soup, a cold station with individual plates and an array of side options, charcuterie boards, a raw bar and ceviche, chef carving station, seasonal dishes, a risotto station and an assortment of desserts from the pastry shop. Dine in. From $105, children $45.
13. Mayami
Consider this Mexican restaurant where drinking and dancing are as much a part of the dining experience as the food. Located in the heart of Miami's artsy Wynwood neighborhood, Mayami offers a pre-fixe Thanksgiving menu (5 to 11:30pm) featuring lemon chestnut, tostada de king crab, roasted turkey with decadent cranberry mustard, pomme puree and ejotes a la mancha garnished with almonds. Save the best for last and indulge in an apple tartine for dessert.
14. Truluck's Miami
The upscale Brickell restaurant let's you build your perfect, three-course meal this Thanksgiving. Choose from roasted turkey breast, Lyonnaise potatoes, steamed asparagus and other dishes. For an extra $25, Truluck's will throw in seconds complete with all the fixins. For drinks, try the special Holiday Nog ($15) or the Turkey Fashioned, an old fashioned spin made with spiced orange syrup and orange bitters ($14.50). Dine in. Noon–9pm; $59, $25 children 12 and under.
15. Komodo
Chinese food in Miami is what you used to crave after a night of heavy drinking, but then Komodo came along and turned this favorite hangover cure into something of a counterpart for a night of partying. Located in the heart of Brickell, Komodo will serve an exclusive Thanksgiving menu (6–11pm) with starters like cheddar jalapeño cornbread and duck salad; mains like char siu barbeque turkey and pork belly; sides including kimchi mashed potatoes, miso butter corn and crispy Brussels sprouts; and for dessert, a spiced carrot cake.
16. ADDiKT at W Miami
From 5 to 10pm, ADDiKT will serve a fall-themed prix-fixe menu full of innovative spins on seasonal classics like roasted butternut squash soup with spinach ravioli, toasted chestnut and orange oil; braised short rib with cauliflower puree, baby romanesco and red wine reduction; and pumpkin pie with cinnamon chantilly and caramel sauce, among others. Dine in. $80 per person.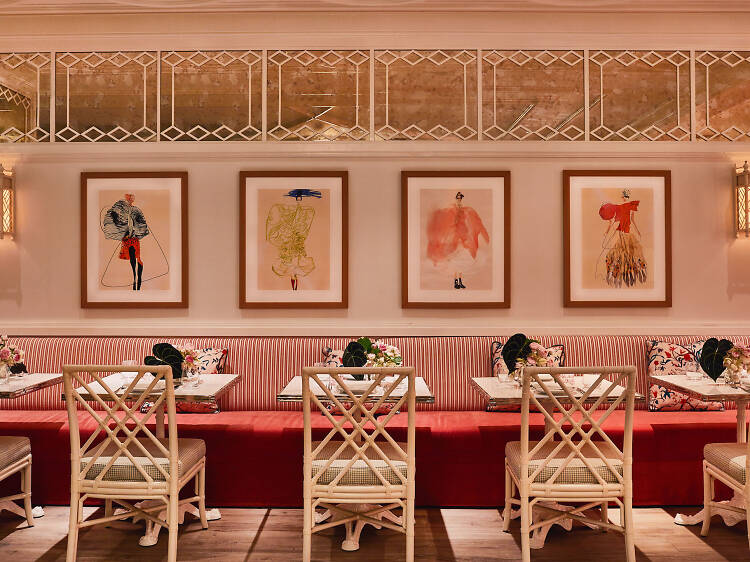 Photograph: The Morelli Brothers
17. Swan
For this Thanksgiving holiday, Swan will serve a pre-fixe menu (6pm–midnight) that includes appetizers like pumpkin soup with cranberry compote, pumpkin seed oil, and toasted pepitas; second-course dishes such as chestnut agnolotti with black truffle and mascarpone; main courses like slow-roasted turkey breast and confit leg with truffle butter and sage; and desserts like sweet potato pie. A la carte dishes will also be available. Dine in. $95 per person.