What Can I Do About Our Building's Ugly Corridors?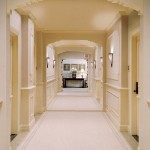 Q. Our apartment building has ugly corridors. Is there anything we can do to make a better first impression on buyers?
A. It's reasonable to be concerned about the way your building's public spaces look, even if your own apartment is beautiful. Wendy Jackson, an associate real estate broker at Nest Seekers International in Manhattan, said that she has seen buyers reject apartments outright because they didn't like the overall feel of a building.
"It does happen," she said. "People will walk in and say the apartment is lovely, but they don't like the way the building looks."
Although you can't personally renovate the hallways, there are things you can do to mitigate the problem.
"The first thing to do is to find out from the management company or the co-op board whether there's any new paperwork related to remodeling the hallways and entrance," Ms. Jackson said. If so, "you can let buyers know that even though they don't look up to date now, the process of changing the hallways is already in the works."
Whether changes are afoot or not, she said, don't underestimate the value of a bit of soap and water. If your front door is looking dingy, scrub it clean. "I've gone as far as cleaning other people's doors," Ms. Jackson said. "If there are three or four doors in the hallway, I would clean them all, so they look the same."
If you have a console in the hallway, and your building allows it, you could add a pot with a flowering plant like an orchid, she said. And if the corridors smell as bad as they look, consider spraying them with Febreze before showings.
Kristen McGinnis, an interior designer in New York, pointed out that an unattractive hallway makes the foyer inside your apartment even more important. "It's all about the mental shift," she said, and about encouraging people to forget about the public spaces outside. "Inside your apartment is where you have control and can create a space that leaves people wanting more."
Ms. McGinnis offered a few suggestions for making your foyer look special. First, focus on the walls, which you may want to paint a distinctive color or finish with wallpaper. If there's room, add a console or center hall table with fresh-cut flowers and hang a single impressive piece of art or mirror. Finally, finish off the foyer with a decorative light fixture. "A beautiful light fixture," she said, "will become the jewelry of the space."
The investment will be worth it, she said, because your foyer isn't just the first impression buyers have of your home. "It's also the last impression that people take away from the apartment when they leave," Ms. McGinnis said, "so it has to resonate."
Source: The New York Times