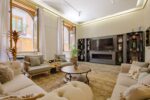 Fantastic Home for sale, inclusive: fully furnished, 2 Storage rooms, one car garage.
Situated in a pre-war building within walking distance from the Royal Place of Madrid, this apartment boasts a generous area of approximately 280 M2, providing ample space for comfortable living. The unit occupies a single floor, ensuring a seamless flow throughout the residence.
As you step inside, you are greeted by an impressive entrance foyer, setting the tone for what awaits. Re...