Here Today, Gone Tomorrow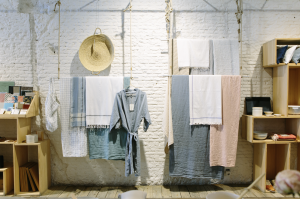 The idiom "here today, gone tomorrow" defines a Pop-Up Store. It is a short-term, retail event that temporarily makes use of physical space to generate a lasting impression with potential customers.
The reality of 2017 is that nearly 37 Million Americans access the internet through their mobile devices, and the count will only rise. There are pros of this digital revolution, and there are cons. People with busy schedules find it more convenient to shop online while they are waiting, commuting, or just laying low in their cozy homes. This shift in buying behavior is ringing alarm bells for high-end retailers.
This shift is evident in the falling retail asking rents in many parts of Manhattan. From Broadway, Times Square, Herald Square, to the Meatpacking District and Harlem – all reported a fall in the range of 23% to 9% year-over-year in 2016. The counter effect of this fall is the simultaneous increase in the vacant retail space because tenants are hesitant to commit to a long-term lease.
Along came Pop-Ups to act as a quick-fix for retail landlords. Moreover, frankly, it is a win-win situation because the potentials are endless with a whole display of eateries, interior design, and designer fashion made available to the masses in high-end streets. Here's how;
·      You can let your creative horses run amok: distinctive, and eccentric Pop-Up environs attract consumers' eyeballs and create a feeling of interactive relevance.
·      It is an ideal platform for budding entrepreneurs to start low-cost retail business models. Since they do not have to sign long-term leases, they are willing to test the waters temporarily to check the viability of their business plan.
·      It is quickly becoming a budgeted marketing method to launch new products to your preferred demographic. This way items previously masked behind unfriendly glass doors, and names are visible to a much wider market. Pop-ups are primarily democratizing the retail sector.
·      It is as obvious as living daylight that the rise of social media happened in sync with the Pop-Up stores making them blend well with the social media. It gives them the liberty to connect immediately with the consumers and engage with them in real time; adding to the oomph factor of the Pop-Up model.
·      Lastly, Pop-up Stores are a fantastic opportunity for retailers to harness the digital shoppers by arranging real-time delivery options via social media partner sites.
Source: Sebastian | Capital