Tipping building staff over the holidays 2018 Guide: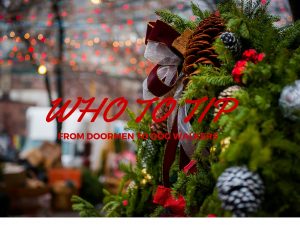 Tipping building staff over the holidays: Brick Underground's 2018 Guide
https://www.brickunderground.com/blog/2013/11/brickundergrounds_2013_holiday_tipping_guide
f you are like most New Yorkers, your enthusiasm for holiday tipping likely falls somewhere between attending the Rockefeller Christmas Tree lighting on crutches and dodging window gawkers at Macy's Herald Square. After all, it's something that you're expected to do, during what is already one of the busiest and most expensive times of the year, but without clear guidelines—how maddening is that?
First off, before you decide who and how much to tip, it helps to understand why you should tip. On its face, tipping is the opportunity to show your appreciation for a well-run building. And whether or not you believe in tipping, it is what is done in New York City, and what most building staff members expect, with some exceptions outlined below. If you come from some place where tipping is not practiced and you choose to disregard it, it will not go unnoticed, especially if you appear to be well off and require lots of attention. (Here's what happens to bad tippers.)
To help you calibrate tips that are neither too small nor too large, we've updated our annual holiday tipping guide. Pour yourself a mug of cold brew, and settle in to review our recommendations and strategies for mastering NYC tipping season. Even if you think you already know what to tip—based on how much you've given in the past, for example—you may want to take a fresh look. Because many building staffers now also serve as de facto private distribution managers, handling your Seamless and Amazon Prime addictions on an unprecedented scale, how many packages you receive is becoming an increasingly important part of the tipping calculation. 
For an up-to-the-minute snapshot of what your neighbors are planning to tip this year, take our two-click annual tipping poll.
(Are you a seasoned tipper seeking yet more guidance? Check out our rundowns of holiday tipping pools, alternatives to cash tips, the renter-versus-owner tipping divide, and how to tip staff you hardly ever see. Plus, our two-minute video guide to tipping, and the inside scoop from doormen themselves.) 
Do I have to tip?
No. You'll be in the minority if you don't, but tipping the staff during the holidays is a custom, not a requirement. Many building staffers tell us they treat non-tippers the same as tippers, just as plenty of others admit to extending fewer favors and smiles to non-tippers, or subtly encouraging them to "pay as you go"—in other words, to tip for each extra service staffers perform. 
(For more, see What happens to bad tippers and Is holiday tipping really necessary?)
How much should I tip building staff?
The precise amount depends on the size of your building (the larger the staff, the smaller the individual tips), quality of service, staff seniority, length of time you've lived there, whether you own or rent (more on that below), personal chemistry, your financial circumstances, and whether you're frugal, generous, or somewhere in between.
Here's a general framework, for you to use as you see fit:
Super, resident manager:  $75-$175 on average (broad range: $50-$500)
Doorman and/or concierge (the latter handles more personal requests, like lining up an emergency dog-walker):  $25-$150 on average (broad range: $10-$1,000)
Porter, handyman, and maintenance staff: $20-$30 on average (broad range: $10-$75)
Garage attendant: $25-$75 on average (broad range $15-$100)
How much should I budget in total for the entire building staff?
Much will depend on the size of your staff and the other factors cited above, but it may help to review the results of Brick Underground's 2017 tipping poll, completed by more than 3,550 New Yorkers, to get a sense of what others do.
Here's an overview:  Read MORE click on the link:
https://www.brickunderground.com/blog/2013/11/brickundergrounds_2013_holiday_tipping_guide