Magnificent Madrid: Why holiday homes in Spain's magnetic capital city are in the spotlight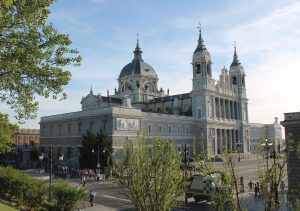 Catedral de la Almudena is among the attractions drawing foreign investors, including Latin Americans, to Madrid. Photo: Luis García
This is a big year for Madrid, where the Prado, Spain's magnificent national art gallery filled with works by Spanish masters including Goya and Velázquez, celebrates its bicentenary.
It comes at an upbeat time for the handsome Spanish capital. Visitor numbers have risen by up to 22 per cent for each of the past five years and 12 large hotels are in the planning, adding 1,200 five-star rooms to the city by next year.
With fabulous art galleries, restaurants and bars, Spain's biggest seafood market and stylish residents who know how to party, Madrid is magnificent.
Property in the city also represents good value against other capitals. Prime prices are 70 per cent lower than in London and a third of those in Berlin, encouraging wealthy Latin American investors to come in substantial numbers.
"Prices rose eight per cent in Madrid in 2018 against a global average of 1.3 per cent and we forecast a six per cent increase this year," says Carlos Zamora, head of residential at Knight Frank Madrid.
"Transaction numbers are increasing and building permits rose 35.5 per cent between 2017 and last year. All signs point to a clear, stable recovery in Madrid."
Buying property in Madrid
One of the dozen new hotels is the Four Seasons, which has spent four years restoring seven buildings by the Puerto del Sol public square in the heart of the city, also remodelling roads and the square.
The beautiful 19th- and 20th-century building, once home to the Santander bank, will have 200 hotel rooms, two floors of designer shops and restaurants and 22 branded Four Seasons Residenceswith one to three bedrooms.
The outstanding architecture, top-quality building work and extensive wellness facilities, as well as the five-star luxury of dedicated, on-site Four Seasons service mean the remaining five residences for sale have price tags starting from £2.76 million.
These are the first Four Seasons branded residences in Spain, and size for size the most expensive homes in Madrid, demonstrating the city's new-found sophistication.
New schemes are showcasing famous architects, cutting-edge technology, good wellness facilities and eco-credentials — all rare until now in the Madrid market.
Javier Ferrero, a contemporary development of 87 apartments just 10 minutes north-east of the centre in the fashionable residential area of Chamartín, has prices around half of the average in Madrid
The glass, aluminium and wood buildings are designed by Brazilian architect Marcio Kogan, with gardens, indoor and outdoor pools plus modern technologies that keep service charges low at £160 a month.
These one- to four-bedroom homes start from £254,000 for 344sq ft to 1,960sq ft, with owners able to choose the layout and design of their apartment. Contact Knight Frank.
Twenty off-plan flats with one, two or three bedrooms at Alcalá, 141in the upmarket district of Santander start at £493,000.
The development will have a modern glass façade which will overlook the garden, as well as parking and a gym. Contact Knight Frank.
Madrid flats in foodie central
Larger three-and four-bedroom flats in Modesto Lafuente 26, an office-to-residential conversion by Grosvenor in foodie-central Chamberí, will also have plenty of glass, plus underground parking and a communal rooftop pool. Prices from £995,000. Contact Knight Frank.
Buyers looking for a home that's ready now can bag one of the last eight at Santa Isabel 21-23, the skilful transformation of a 1750s building in vibrant, on-trend Lavapiés west of El Retiro Park, the city's big, gorgeous green oasis.
Behind the protected façade, 24 contemporary, comfortable flats are being snapped up by local and international buyers. There's a grand entrance hall, a beautiful inner courtyard, gym, concierge, underground parking and a car lift.
Santa Isabel is close to Atocha, Madrid's main train station, yet prices from £726,000 are almost half those in the prime district of Salamanca only a 10-minute-walk away. Contact Knight Frank.
Shop for your new home in Madrid
Madrileños have a keen sense of style and their city offers plenty of choice when it comes to interiors shopping. Here are some great places to browse:
El Rastro street market
Europe's largest open-air flea market is held every Sunday from 9am to 3pm in La Latina, one of Madrid's oldest and quirkiest neighbourhoods. El Rastro's sheer size demands a determined approach but focus on the smaller streets off Ribera de Curtidores to spot antique and vintage treasures. And make time for lunch — La Latina has some of Madrid's most atmospheric tapas bars, notably along La Cava Baja.
Banni
At the other end of the price scale, Banni is one of Spain's best-known interior design firms, showcasing international designers as well as its own range of kitchens and bathrooms. Banni has studios in Majorca, Marbella, Barcelona and four in Madrid including a large showroom close to El Retiro Park (banni.es/en).
Vintalogy
Spain's largest vintage shop sells clothes, furniture and all manner of curios, clearly presented in a vast former textile factory in central Madrid. Late evenings often include a DJ set or special event. While you are there, drop into nearby Atocha station, Madrid's main train terminal, which has an extraordinary glass and steel interior filled with tropical plants (vintalogy.es, Cale Atocha 10).
Cesta República
An homage to basket weaving in all its glorious forms with artful displays, beautiful craftsmanship and thoughtful galleries. The shop is one of the many boutiques in vibrant Chueca, a youthful and fun district of narrow streets and beautiful architecture (cestarepublica.com).
Streets to bookmark
In top-price Salamanca, Calle de Goya and Calle de Serrano are loaded with international designer names including a newly opened Maison du Monde. Calle de Padilla is famous for its high-end furniture shops while the ABC Serrano centre on the corner of La Castellana, filled with boutiques and smart restaurants, is an indoor favourite with elegant Madrileños.
Shoppers searching for edgier, on-trend fashions should visit Calle de Fuencarral on the borders of the Chueca and Malasaña districts.