Where to Go Apple Picking This Fall Within 2.5 Hours of NYC
Cider, hay rides, and socially distant outdoor fun.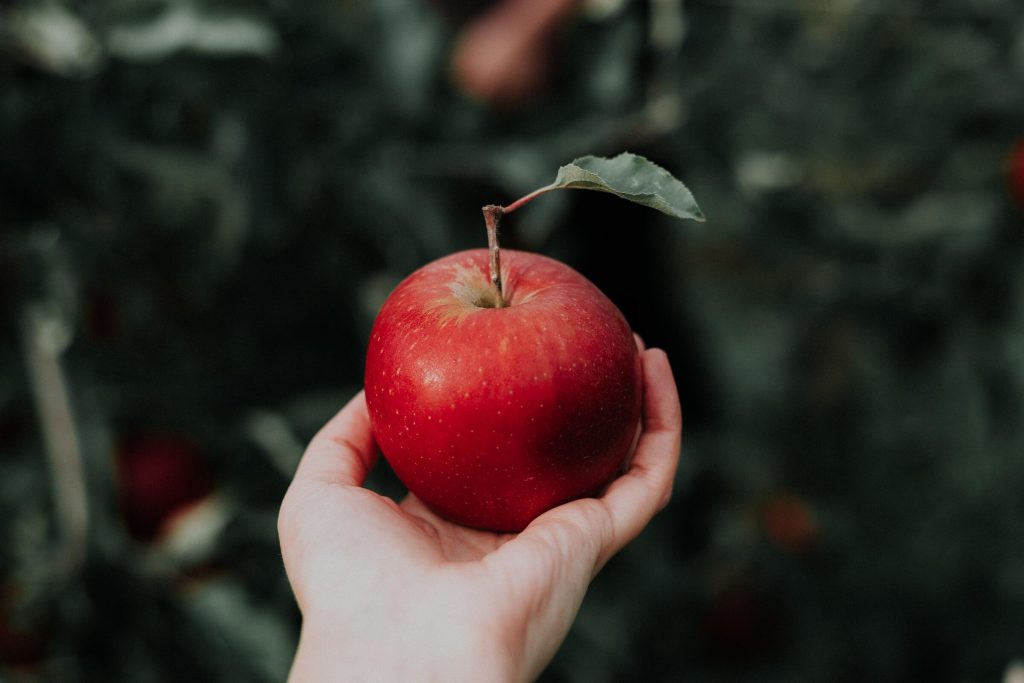 Apple picking will certainly look a little bit different this year — timed entries and reduced capacities will be the norm — but luckily, one element that's not affected are the apples themselves. All of the region's most beloved farms will still be open to visitors this fall, and plenty of them offer markets with pie and apple cider (both the doughnuts and beverage kind), along with attractions like petting zoos, hay rides, and corn mazes.
So from the Hamptons to Hudson Valley, grab your mask, and check out the 10 best apple orchards and farms near NYC.
Poughquag, New York
This Hudson Valley farm is always one of the most popular spots for apple picking, but they offer far more than just that. In addition to the orchards, there is an ice cream stand famed for its apple cider doughnut sundae, a dog park, a petting zoo (with llamas and peacocks!), and the Tap Room, which pours local craft beer, cider, and wine. As for apples: Barton has over 120 acres of trees, and they rotate picking areas frequently to ensure visitors always have access to well-stocked trees and the ripest fruit.
By public transport: 2 hours and 25 minutes. From Grand Central Station, take the Harlem Line towards Wassaic and exit at the Pawling Station. From there, take a cab ride eight miles to the orchards.
By car from Grand Central Station: 1 hour and 40 minutes
Hopewell Junction, New York
This 270-acre apple orchard has been in the Morgenthau family for over 100 years and has a deep commitment to eco-friendly practices. This fall, apple picking (and other pick-your-own items like peaches, blackberries, and flowers) will be by reservation-only, hour-long slots to ensure adequate social distancing. Celebrate your bounty by booking a cider tasting after, which includes a reserved picnic table, a flight of five ciders, and a cheese and charcuterie plate. If 2020 has you feeling a bit exhausted to do your own picking, don't sweat it: their organically grown vegetables and eco-certified fruit are all available in their farm store.
By public transport: 1 hour and 45 minutes. From Grand Central Station, take the Hudson Line towards Poughkeepsie. Exit at the Beacon Station and take a cab 12 miles to the farms.
By car from Grand Central Station: 1 hour and 30 minutes
Red Hook, New York
We won't lie: the best part of Greig Farm might be all of the ridiculously cute goats that live behind the farm market, but the apples are a very close second. This farm in Red Hook (not the Brooklyn one) grows about a dozen different apple varieties — from Gala to Ginger Gold — which are in season from late August to late October. And plan to stay for at least an afternoon when you visit: in addition to the aforementioned goats, there is also a craft market in a renovated dairy barn, an art gallery, and winding hiking trails with views of the Catskill Mountains. Don't miss Greig's farm market either, which has an incredible selection of locally produced goods and an excellent cafe to fill your belly before or after picking.
By public transport: 2 hours. From Penn Station, take Amtrak to Rhinecliff, then take a cab 11 miles to the farm.
By car from Grand Central Station: 2 hours and 10 minutes
Water Mill, New York
Sure, the name may be misleading, but this Water Mill institution is a fantastic choice for apple picking if you're Out East. $25 gets you a one-peck bag, which works out to approximately 10 pounds of apples (enough for all your wildest pie dreams). And yes, it's also worth visiting closer to pumpkin season, when 30 acres of attractions will delight the inner-child in anyone (but be warned that it is incredibly popular, so plan ahead). Activities include everything from narrated wagon rides through the corn and pumpkin fields to classic fall snacks like apple cider doughnuts and hand-dipped caramel apples. And, of course, don't forget to grab a fresh-baked pie from their market on your way out.
By public transport: 2 hours and 35 minutes. From Penn Station, take LIRR to Jamaica Station, then transfer to the Montauk Branch. Exit at Southampton and take a taxi two miles to Pumpkintown.
By car from Grand Central Station: 2 hours and 10 minutes
Riverhead, New York
One of the most family-friendly farms in the region, Harbes offers 78 acres of apple picking with over 27 varieties. But what makes this farm especially great for younger (or short!) pickers is their unique trellis system, which grows apples low enough to the ground for anyone to pick. There is also a wealth of other fall activities here and at Harbes' other nearby locations, including multiple corn mazes, hayrides, and pumpkin picking. And the farm store is not to be missed: roasted sweet corn, fresh-squeezed lemonade, and house-made apple cider doughnut ice cream are just some of the tasty delights.
By public transport: 2 hours and 20 minutes. From Penn Station take the Ronkonkoma Branch towards Ronkonkoma and exit at Mattituck Station. From there, take a taxi four miles to the orchard.
By car from Grand Central Station: 2 hours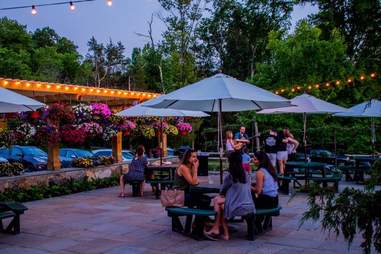 North Salem, New York
This farm in northern Westchester may be the most well-known in NYC circles due not only to its proximity, but its famed fall festival. Unfortunately due to COVID-19, the festivities are canceled for the season, but that may mean fewer people and more apples for those who do venture to the farm. Note that this year, picking will be on weekends only and reservations will have to be purchased in advance. Entry gets you a half-bushel picking bag (that holds a whopping 25 pounds of apples), plus access to the pumpkin patch and farm store.
By public transport: 1 hour and 20 minutes. From Grand Central Station, take Metro North's Harlem Line towards Wassaic and exit at Croton Falls. From there, take a taxi two miles to the farm.
By car from Grand Central Station: 1 hour and 15 minutes
Ghent, New York
Technically a "love apple" is an old-fashioned term for wild tomato, but rest assured that this charming farm in the Hudson Valley actually stocks the kind that grows on trees. In addition to their apple orchards with views of the Catskill Mountains, they also grow cherries, peaches, and five different varieties of berries, all of which are available for U-pick during their peak seasons. Don't miss the market here, which is essentially the size of a small grocery store and showcases nearly two dozen local farming partners. On your way out, swing by and say hi to the menagerie of animals at the petting zoo: especially the newest addition, baby donkey Panchito.
By public transport: 2 hours and 15 minutes. From Penn Station, take Amtrak to Hudson. From there, take a taxi eight miles to the farm.
By car from Grand Central Station: 2 hours and 25 minutes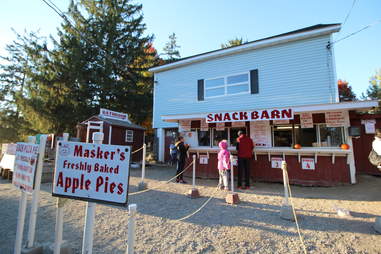 Warwick, New York
This 100-plus-year-old farm in the Warwick Valley is making picking extra-safe this year. In light of COVID-19, they're allowing visitors to drive in their cars to any of their 10,000 trees to avoid unnecessary exposure. And once you pick your spot, you can even set up a picnic while you grab your apples. As for the farm store, favorites like apple cider, apple cider doughnuts, and apple pie have to be ordered in advance, and then can be delivered to your car upon exiting. And while their yearly fall festival will have to wait until 2021, the good news is that their 2020 apple crop is one of the best in recent memory.
By public transport: 1 hour and 50 minutes. From Port Authority Bus Terminal, take the 196 bus to the Warwick Park & Ride, then walk or take a cab for the remaining .9 of a mile.
By car from Grand Central Station: 1 hour and 20 minutes
Water Mill, New York
Load up on all the fall favorites at this Hamptons farm, which opens Labor Day weekend for apples and pumpkins. The dwarf apple trees here ensure easy grabbing, while pumpkins ranging from minis to 150-pound behemoths can be plucked straight from the vine. Admission is free for up to six people with the purchase of a half-bushel bag, and visitors can roam the orchards to mix and match varieties. Celebrate your hard work by taking an educational 20-minute wagon tour of the farm; the Halsey family who runs Milk Pail are, astoundingly, the 12th generation to work the land.
By public transport: 2 hours and 55 minutes. From Penn Station, take LIRR to Jamaica Station, then transfer to the Montauk Branch. Exit at Bridgehampton and take a taxi two miles to the farm.
By car from Grand Central Station: 2 hours and 10 minutes
Yorktown Heights, New York
This Westchester farm is only about an hour's drive from NYC, making it one of the more accessible options. It's also notable for the wide range of fruits, vegetables, and plants that they grow. In fall, there are over 40 varieties of apples to pick, while closer to Christmas, Wilkens features choose-and-cut Douglas and Fraser Fir trees. There is also a charming market, which has an impressive array of baked goods including fresh pies, apple cider doughnuts, and — most intriguing — strudel sticks, as well as the farm's own wine from White Hill Vineyard. Be warned that the farm will operate at 50% capacity this year and will turn away visitors once they're full.
By public transport: 1 hour and 30 minutes. From Grand Central Station, take the Hudson Line towards Poughkeepsie. Exit at Peekskill Station and then take a taxi seven miles to the farm.
By car from Grand Central Station: 1 hour and 5 minutes