Upper West Side's New Complex
"Rethink how you live with Waterline Square. A lush and expansive residential experience in NYC where Midtown meets the Upper West Side!"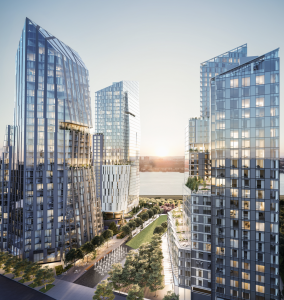 That was the motto of General Investment and Development Companies (GID) in late 2016 when they took three star architects on board. The grand plan was to convert Upper West Side's undeveloped land into a state of the art residential enclave for Waterline Square. As you may see in the table below;

Although the final numbers are not set in stone, NYC's Real Estate pundits are projecting the sale of 1 to 4 bedroom upper floor units to get underway very soon. Moreover, each tower's lower floors will be rental only property.
The inhabitants of Upper West Side may recall the space between West 59th and 61st streets as part of the now dismantled Riverside Center's Extell Development project. The miss-managed five-building project began withering almost as soon as it took off in 2010. Eventually, in late 2015 GID bought a number of portions of the 31.5 Million sq.-ft. development site for a small sum of $676 million.
Specifically, the Waterline project will span across five acres and is constructed around a new landscaped park. It is the zenith of a blooming, and 25-year strong riverfront neighborhood, where Midtown meets the Upper West Side. The inhabitants will have a fantastic life experience with spacious greenery, and a host of eateries, markets, and retail options; all within a stone's throw away.
At the time of writing all three projects are well underway, with about 500 construction workers, and four cranes on the construction site. The Waterline Square is the farthest with superstructure only just rising above the ground.
Lastly, the executive architect of all three waterline square buildings is Goldstein, Hill & West Architects. All three are expected to complete in 2018.
Source: Sebastian Capital