The best drive-in movie theaters in NYC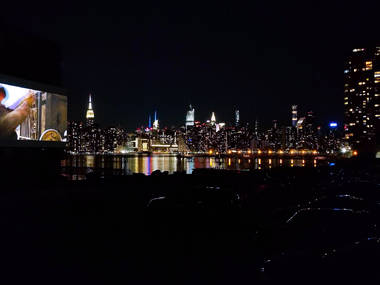 Outdoor movie-going is no longer a relic from the last century. Lucky for us, there's a boom of pop-up drive-ins now operating in NYC.
Drive-in movie theaters may seem to belong to a different era, but this year, the nostalgic entertainment form has made its way back into the spotlight. Drive-ins across the city are popping up and though New York City isn't known for sprawling parking lots, New York establishments are getting resourceful on where to set up their big screens, from a diner parking lot to the East River waterfront. When it comes to fun activities in NYC, where there's a will, there's always a way.
For your next date night or outing with friends, order takeout from your favorite restaurant, pack a picnic full of snacks, and enjoy a flick at one of these new drive-in theater locations in and around the concrete jungle.
A major drive-in series is in the works from the organization behind New York's famed Tribeca Film Festival. Typical film festivals are unlikely this year. But next month, Tribeca Enterprises is launching a new version of a summer film fest in the form of a pop-up drive-in.  The series will take place each weekend (Thursday through Sunday) from July 2 through August 2. Four venues have already been announced, including two locations: Orchard Beach in The Bronx and Nickerson Beach in Nassau County, Long Island. At Orchard Beach, all screenings will be free! The experience will present new, classic and independent works from various filmmakers, creators, and artists onto the big screen. Giant-screen specialist IMAX is on board to enhance the image and sound quality for all Tribeca Drive-In viewings, and IMAX has collaborated with Tribeca Enterprises to curate the program from its library of films. Orchard Beach can fit 500 cars per screening, and Nickerson can hold about 250.
Rooftop Films and New York City Economic Development Corporation have teamed up to create The Brooklyn Drive-In, popping up at The Brooklyn Army Terminal in Sunset Park. With film festivals shut down or postponed around the world, this series is a way to access those sought-after flicks including new and independent foreign films released this year. Since opening the gates, movies announced to hit their big screen include Dawn Porter's documentary John Lewis: Good Trouble; Max Barbakow's Palm Springs, Amy Seimetz's She Dies Tomorrow, Copper Raiff's SXSW-winning debut Shithouse and more.  Tickets, which you can find here, will be priced starting at $35 per car (up to 4 passengers per car). Doors will open each night around 7:30pm, shows will begin at 8:30pm and end by 11pm
A new drive-in has just opened in Greenpoint, Brooklyn, offering "killer views of Manhattan's skyline" along with popular movie classics; not surprisingly, it's called the Skyline Drive-In. Located at 1 Oak Street across the river from downtown Manhattan, the Skyline operates on a site that's been used for shooting Fendi and Converse ads as well as the opening credits of Saturday Night Live.
One Astoria-based restaurant that's been around since 1965, Bel Aire Diner, is now putting on drive-in movie nights in their sizable parking lot, bringing the trend straight into the concrete jungle. For the setup, Bel Aire Diner has been using a 25-foot screen, propped up high to allow easy viewing for roughly 30 to 40 cars. Movie patrons must be inside their cars (no walkers!) and can tune in to the flick's sound on an an FM radio station. Visitors can dine too, ordering food ahead of time from Bel Aire's website and just include a car color and license plate for food drop-offs from the greasy spoon. Bel Aire Diner has been working on the new venture with Long Island Movie Nights, who specialize in creating pop-up drive-in events. Read moreSPONSORED LISTING
Uptown Drive-In, a new festival-like event coming to the parking lot of Yankee Stadium this season, is a summer party we can all get behind. The carnival-like experience, set to happen this summer, will be a combination of a drive-in movie theater and a live-music concert featuring local NYC artists. It will also feature carside dinner service from beloved New York street vendors. Attendees for the Uptown Drive-In will also find live interactive games, raffles and giveaways. To view the entertainment from your car, the stage will be lifted, and the MC, performers and hosts will stream from a PA system to visitor's car radios, confirms MASC Hospitality Group's Marco Shalma, in an interview with Time Out New York. MASC Hospitality, the same New York-based company responsible for the Bronx Night Market and the Bronx Beer Festival, is working with Bronx community businesses to curate the experience. 
On the grounds of the New York Hall of Science in Flushing Meadows Corona Park, Queens-Drive-In is popping up through October. Co-presented by NYSCI and Museum of the Moving Image, the series will showcase new and independent foreign films from 2020. Beyond seeing sough-after flicks presented by SundanceTV, Drive-In guests can expect pre-show entertainment from live performances, talks, live demonstrations and science tips connected to the night's movie theme (think climate change or real-life thrillers).