The New Trend: Penthouses for Commercial Buildings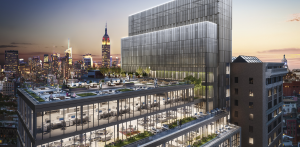 NYC's Commercial landlords are adding glass-encrusted penthouses with terraces and views with an aim to make their real-estate at par with hip, contemporary workplaces. The premise of adding new structures escalates the net worth of the commercial property. Moreover, because there can only be as many penthouses, they command ultra-premium prices.
A penthouse addition offers high ceilings, lots of light through glass facades and connected outdoor space. Landlords often have to be creative in squeezing space to add these structures, occasionally shifting heavy objects to another part of the building, tapping underlying area or transferring air rights from neighboring lots.
Following are some of the glitzy penthouses towering upon some of the distinguished commercial buildings:
The lop-sided restrictions of NYC's zoning laws forced architects to get creative with the existing structures. Consider America's earliest skyscraper: – The Woolworth Building. Built in 1913; this graceful tower remains a vintage jewel in downtown Manhattan's skyline. Today, its top 30 floors are reimagined into modern condominiums topped by a seven-story Penthouse extraordinaire. In Between the penthouse's worth $110 Million.
Now get in awe of one Tishman Speyer, whose creative horses ran amok to transform the MetLife Building's non-operational helipad into a 24k sq. ft. Penthouse on its 50th floor at 200 Park Avenue. The project cost was $24 million.
Furthermore, if you are a New Yorker, unless you have been living in a nuclear attack bunker, you would know about Jared Kushner designed penthouses atop the historic Puck Building. The building which also contains commercial options for office and retail space alongside ballrooms sold its Puck Penthouse 1 for $66 Million. The 7,241sq. ft. Penthouse offers 6 bedrooms, 8 bathrooms, a home theater, gym, 5k sq. ft. of outdoor space topped off with a yoga lawn.
Now focus on the under-construction tower at 520 Park, slated to be completed in 2018. It will offer 33 full-floor units alongside five duplex penthouses. The crowning diamond will be a 12.4k sq. ft. Penthouse with an expansive 1,700 sq. ft. of outdoor space. The asking price is "$130 Million!"
Source: Sebastian Capital