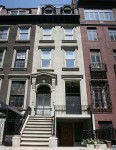 Murray Hill Townhouse For Sale New York City Six Flor NYC
Murray Hill Townhouse: This Beautiful Six Floor Townhouse is currently configure as a 4 story 4,000sqft. residence with private entrance foyer with private Elevator and a very large 4.000sqft duplex office.
The building is approximately 8,000 square feet including an 800sqft. ...