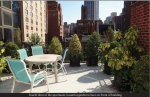 Murray Hill, 6 floor Townhouse w/elevator  
Murray Hill Townhouse: This Beautiful Six Floor Townhouse is currently configure as a 4 story 4,131 sq ft. residence with private entrance foyer with private Elevator and two floors of  approx. 3,913 Sq ft duplex office.
The building is approximately 8,044 square feet including an 800 Sq...