A Nice Drink Idea For Winter And For Valentine's Day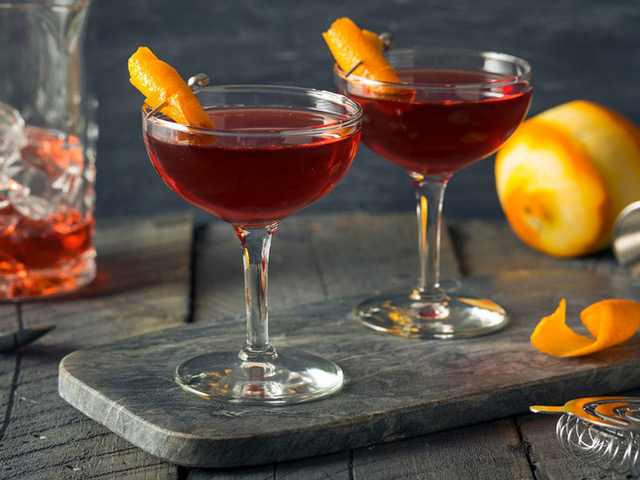 Negroni (courtesy of Campari)
1 oz Campari
1 oz 1757 Vermouth di Torino Rosso
1 oz Bulldog Gin
Method: Pour ingredients over ice into a shaker. Stir and strain in a chilled martini glass. Garnish with an orange twist.
This bright red Italian liqueur is an iconic cocktail staple. Here's how to incorporate it into your cocktail recipes at home.
By Jonah Flicker on January 06, 2021
Campari is arguably the most well-known Italian liqueur, with a bright red hue that makes a mark in any cocktail it's used in (and there are indeed many). Its origins can be traced back to 1860 when Gaspare Campari came up with the formula for this bitter aperitif, which remains a closely-guarded secret to this day. One ingredient we do know of that gave Campari its bright red color was carmine, a dye derived from cochineal insects. As of 2006, the brand no longer uses this, instead turning to artificial coloring for consistency.
Regardless, the spirit remains a crucial component of classic cocktails like the Boulevardier, Americano, and most famously, the Negroni. "If you ask a bartender what their favorite cocktail is, after they tell you how difficult of a question that is since all cocktails have their time and place, they will shrug and say probably a Negroni," says Sam Nelis, beverage director at Landcrafted Bar at Barr Hill Distillery in Vermont. "Bartenders like to taste the spirits, and a Negroni is a perfect spirit-for
ward cocktail. It's the perfect balance of something strong (gin), something bitter (Campari), and a fortified wine (sweet vermouth). Campari is an excellent way to add a bitter orange flavor to citrusy drinks as well. It really helps round out the acidity and sweetness in most sour cocktails by adding that bitter fruit element for depth."
Here are some Campari recipes you can easily make at home yourself, provided by the brand itself and some expert bartenders.